N. 8th Street Road Project
Posted August 2023
Earle Contractors will be here starting Monday, September 18th. For more information about road projects, please visit:
N. 15th Street Bulkhead
Posted August 2023 –
The North 15th Street Bulkhead replacement will begin between September 25th and October 2nd. The bid was awarded to EZ-Docks in the amount of $109,500.00
Route 72 NJDOT Update
Posted August 2023
Please see the press release from the New Jersey Department of Transportation on the link below.
N. 9th Water Tower
Posted August 2023
The painting and rehabilitation of the N. 9th Street water tower has commenced. The crew has been busy this building the scaffolding that surrounds the tower. This project was originally bid in April 2022. The award of contract went to Allied Painting in the amount of $1,096,500. The Borough is working on the plans for the 14th Street water tower.
Blood Pressure Screening Reminder
Posted August 2023 –
Visit Borough Hall the first Tuesday of every month for a free blood pressure screening. No Appointment is necessary.
1st Tuesday of Every Month
10:00 am to 10:30 am
Questions visit www.lbihealth.com
609-492-1212
September Council Meeting Highlights
Posted August 2023
Council rejected the pickleball court bid and authorized the receipt of new bids. There was only one bidder for the pickleball court project that came in well over the appropriated amount.
An amended ordinance was introduced to authorize additional funding for the pickleball court project.
The ordinance for municipal property repairs and rehabilitation was adopted.
The Borough will be participating in the proposed Ocean County Coastal Evacuation Study.
The Annual Trunk or Treat is going to be October 28th from 5 pm to 7 pm. The rain date will be October 29th.
For a complete agenda and last months minutes please visit:
BID ANNOUNCEMENT
Posted August 2023
Public notice is hereby given that separate sealed bids will be received and opened by the Borough of Surf City at the Borough Hall, 813 Long Beach Boulevard, Surf City, NJ at 11:00 AM on September 7, 2023 for the following project:
2023 Rehabilitation of Existing Tennis Courts and Pickle Ball Courts.:
Base Bid:
Rehabilitation of two (2) existing tennis courts to provide one (1) tennis court and four (4) pickle ball courts. Overall dimension of the existing and proposed court area is 120 feet by 120 feet. The project consists of milling of the existing court surface and placement of 2.5 inch 9.5 M64 asphalt surface and leveling courses, color playing surface and the installation of new fencing, nets, net posts, sidewalk and all necessary restoration.
Alternate Bid – Exterior Ten (10) Foot Fence Rehabilitation:
Removal of existing fence fabric and top fence rail around the perimeter of the existing courts. Placement of fencing post sleeves over existing posts and installation of new top, middle and bottom rails and new fence fabric. Approximate length of fencing is 503 linear feet.
Prospective Bidders are strongly encouraged to visit the job site prior to submission of BID, to familiarize themselves with site conditions.
The Contract Specification Documents may be obtained at the office of the Borough Engineer, Owen, Little & Associates, Inc., 443 Atlantic City Boulevard, Beachwood, NJ, 08722, during normal business hours (8:30 a.m. to 4:30 p.m.) on or after August 16, 2023 upon payment of $50.00 per set. CHECKS MUST BE MADE PAYABLE TO BOROUGH OF SURF CITY. If a FED EX or UPS Account is not available and it must be mailed, an additional payment of $30.00 will be required. (check made payable to Owen, Little & Associates). Official documents must be purchased from Owen, Little & Associates for Bid Submission. No downloaded documents will be accepted, as we cannot guarantee accuracy.
A BID BOND drawn to the order of the Borough of Surf City in an amount equal to ten (10%) percent of the amount of the Bid, but no more than $20,000.00, must be submitted with the proposal as BID SECURITY, pursuant to Local Public Contract Law (LPC) 40A:11-21.
Bids may be submitted by mail or in person at any time prior to the time for receiving and opening the same. Bidders are required to comply with the requirements of N.J.S.A. 10:5-31 et seq. and N.J.A.C. 17:27.
The Borough of Surf City reserves the right to waive any informalities and to reject any and all bids.
BOROUGH OF SURF CITY
CHRISTINE HANNEMANN, RMC/CMR/QPA
BOROUGH CLERK/ADMINISTRATOR
---
NJDOT to Pause Rt. 72 Bridge Project
Posted July 2023
Mayor Francis R. Hodgson hosted a meeting with all of the Long Beach Island Mayor's to discuss the proposed lane closure's this summer. A letter was signed by all of the Mayor's and sent to Senator Christopher Connors, 9th Legislative District. Senator Connors then sent a letter to the the New Jersey Department of Transportation advocating on behalf of Long Beach Island. Together, with members of the public that also contacted the NJDOT, LBI was successful at working together to stop the summertime lane closures. The project will be on hiatus until after Labor Day.
Highlights August Council Meeting
Posted August 2023
An ordinance was introduced for repairs for municipal properties. The qualified purchasing agent is getting state contract quotes for a new roof.
The ordinance was adopted to amend the rules about parking on Sunset Avenue. Parking will be permitted along Sunset Avenue EXCEPT between 20th & 22nd Streets.
Council approved the agreement to continue providing a resource officer at the EJ School.
Mayor Signs Against Windmills
Posted August 2023
Mayor & Council have held a stance against the proposed windmills. Please see the letter signed by many Mayors throughout New Jersey.
Letter-to-Pres-Scutari-Speaker-Coughlin
July Council Meeting highlights
Posted July 2023
Two change orders were approved for the most recent road projects at N. 1st Street, N. 3rd Street and Shore Avenue They reduce the contract totals, for a total of $102,174 due to the Borough.

The Borough Council has approved to execute a Shared LEGAL Service Agreement to join Long Beach Township and other island municipalities.Pashman Stein agreed to provide the group legal services relating to the opposition to the Atlantic Shores offshore wind project, including the drafting, preparation, and filing of objections to the New Jersey Department of Environmental Protection.
The SFY 2024 NJDOT application was approved for N. 10th Street, N. 13th Street, & N. 15th Street, as recommended by the Borough Engineer.
An ordinance was amended to read that there is no parking on Sunset Avenue between North 20th Street and North 22nd Street. The existing ordinance does not allow parking between North 13th Street and North 22nd Street.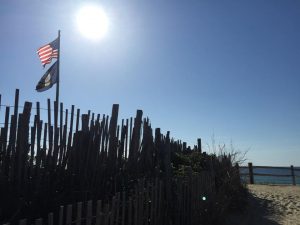 Charlie Mann
Photographer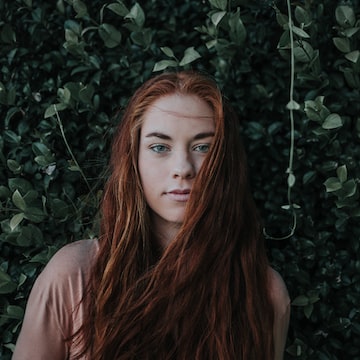 Bobby Russell
President
Hands-on Learning
Posted July 2023
The Borough of Surf City has been partnering with ReClam the Bay every Tuesday down at the N. 16th Street Bay Beach. Learn about Barnegat Bay and the creatures who live in it. See and touch tiny baby shellfish while you learn about how to enjoy and help the bay. Find some other fun things to do while you experience the bay.
Every Tuesday, July 5th through August 29th at 9:00 am -10:00 am.
Blood Pressure Screening
Posted July 2023
Visit Borough Hall the first Tuesday of every month for a free blood pressure screening. No Appointment is necessary.
1st Tuesday of Every Month
10:00 am to 10:30 am
Questions visit www.lbihealth.com
609-492-1212
2nd Annual Fireworks
Posted July 2023
Thank you to the Surf City Vol. Fire Company, various Borough Departments and anonymous donors for wonderful Fireworks display on July 3rd.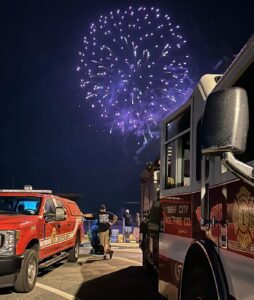 Community Rating System – Flood Insurance Resources
Posted July 2023
We belong to a program called the Community Rating System, known as CRS. The objective of the Community Rating System (CRS) is to recognize communities that are doing more than meeting the minimum NFIP requirements to help their citizens prevent or reduce flood losses. The CRS also provides an incentive for communities to initiate new flood risk reduction activities.
Please join us for a webinar July 26th at 6:00 pm to learn about how flood insurance works.
New Laws That Affect Policies NFIP
Changes That Help You Save
MITIGATION STEPS
Real Life Homeowner Examples SAVINGS STORIES
Ask Us Any Questions You Have Q & A
GATOR PROGRAM EXPANDED
Posted June 2023
The ADA Gator Program has been expanded to cover the length of all of the Borough beaches. A Gator badge is required and can be obtained at the Beach Badge Booth by showing a government-issued ID & completing a hold harmless agreement.
Anyone with a Gator Badge can catch the Gator on the approved vehicle access streets, N. 5th, N. 12th, or N. 18th by the street entrance of the dune area. The Gator will then bring the patron over the dune and along the dune fence area to any street they wish to go to in the borough. The Gator may not enter the crowded beach area for safety reasons. When you are ready to leave the beach, you can catch the Gator as they sweep by the dune fence area or contact the Beach Badge office with your location. The Beach Badge office will radio the corresponding Gator driver to your area in the order that calls are received. All patrons with badges are permitted to have one individual assist them and ride along.
Please don't hesitate to call the badge booth at (609)361-7655 during business hours.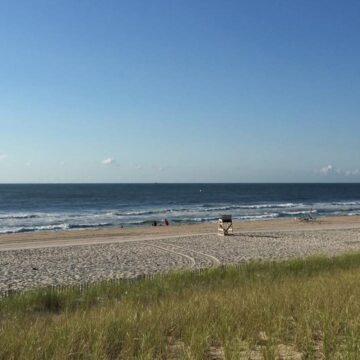 Charlie Mann
Photographer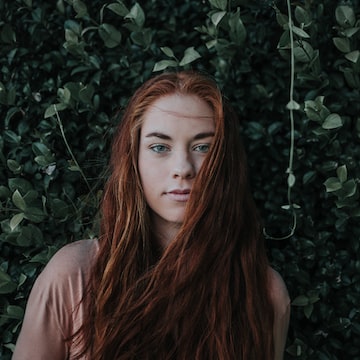 Bobby Russell
President
Keep LBI Clean
The Borough Council has agreed to work with Alliance for a Living Ocean(ALO) in replacing the open cans with tandem lidded cans (over time) to the committee, via ALO"s Adopt a Street funding recommendation for the beach and bay side trash cans. The Environmental Committee has been charged with selecting the lidded can specs. This program will be ready to launch with the adoption of the 2024 Municipal Budget. Alongside ALO, the Borough will be launching "Keep LBI Clean" on social meeting and public outreach events.
2023 Recreational Improvements
Brand new inclusive playground equipment has been installed at The Richard A. Zachariae playground at Division Street.
Both basketball courts have resurfaced with an improved backboard, rims, and nets.
New swings will be delivered at Bay Beach by the end of June 2023. By NJ State standards, the items at Bay Beach are "grandfathered." New items may not be added to the beach, the Borough can only replace items with the same type of equipment in the same location.
The Borough has been awarded $62,500 to reconstruct the pickleball & tennis courts. A schedule will be released soon.
Recent Road Projects
With each road project, the Borough engineer designs the streets to be constructed above base flood level with improved drainage and check valves at each street end. All streets for road projects are selected by the Borough Engineer based on road condition and base flood levels. In recent years, the 300 blocks of N. 7th, N. 6th, N,. 5th, N. 4th, N. 3rd, & N. 1st have been reconstructed along with the 4oo Blocks of N. 3rd, N. 4th, Shore Avenue and portions of Barnegat Avenue. The 100 and 200 Blocks of N. 8th Street are scheduled for the Fall 2023. The Borough has just received notice for the next New Jersey Department of Transportation grant application for the next reconstruction project. The Borough Engineer has determined that the 300 Blocks of N. 10th, N. 13th and N. 15th Streets.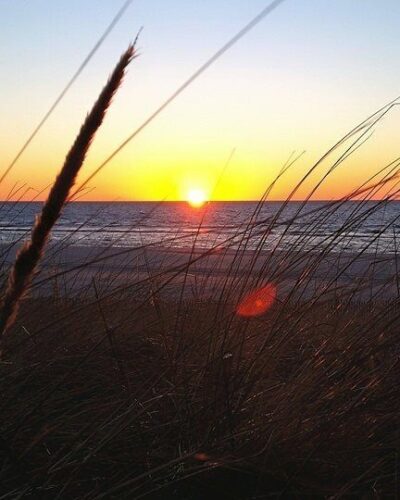 JUNE COUNCIL MEETING HIGHLIGHTS
THE BOROUGH HAS LEASED A TRASH TRUCK FOR THE 2023 SUMMER. A NEW TRASH TRUCK WILL BE ORDERED, IT MAY TAKE UP TO A YEAR TO TAKE DELIVERY.
OUR BEACHES HAVE A FULL COMPLIMENT OF LIFEGUARDS, GATOR DRIVERS AND BADGE CHECKERS.
THE POLICE DEPARTMENT IS STILL SEEKING CLASS II POLICE OFFICERS.
BOND ORDINANCE 2023-11 WAS INTRODUCED TO AUTHORIZE FUNDING FOR A POLICE VEHICLE.
BOND ORDINANCE 2023-10 WAS INTRODUCED TO AUTHORIZE FUNDING FOR BEACH MATS.
COUNCIL AUTHORIZED THE FY 2023 BUILDING RESILIENT INFRASTRUCTURE AND COMMUNITIES COMPETITIVE GRANT APPLICATION FOR BULKHEADS AND DRAINAGE.
THE WATER & SEWER DEPARTMENT AUTHORIZED EMERGENCY REPAIRS TO THE PUMP AT WELL # 7.